IELTS Preparation Lahore for Band 8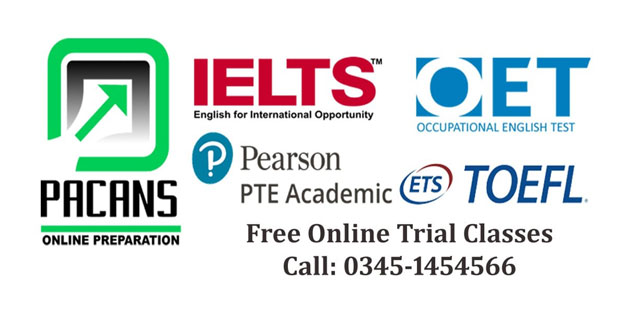 IELTS Preparation Lahore for Band 8
Mr. Imran Saigol Band 8 (Student of PACANS)
Mr. Ahsan Athar Band 7.5 (Student of PACANS)
PACANS- IELTS preparation call 0300-4094094 or 042-35855791 or log on to http://www.pacans.com
I know that you are tired of hearing academies claim that they will help you get Band 8, but when you take the IELTS preparation the teacher only tells you the IELTS exam pattern. Are you tired of understanding the IELTS exam pattern?
You know why they do not tell anything else, the reason is that they do not even know more things.
You know that you cannot get more than Band 6.5 in even if you write a perfect essay, so how would you score more?
PACANS will familiarize you with 1000 words which will help you increase you writing band as well as help you understand the IELTS reading part.
Academies say that you will have to apply strategies and techniques to score well on reading, but how can you apply the strategies if you cannot understand the words written in the passage. Even if you do not want to join PACANS, please ask the academies to teach you properly. They will waste your time and you will end up getting less than your desired band.
You will not get more than Band 6 in the IELTS speaking part unless you apply the stress and intonation. You know why you cannot understand the words in the listening part, it is because you do not speak the words properly yourself.
I am not trying to degrade you. I am also a Pakistani, and I had to go through the same process. I am just trying to tell you that these academies are getting so much money from you, but still they are not teaching you anything new. The only academy which is teaching something is called PACANS.
And last but not the least there is any point of starting IELTS preparation if your English Grammar is weak.
PACANS has successfully opened 4 branches in Lahore, and it is planning on starting many more branches all over Pakistan.
PACANS- IELTS preparation call 0300-4094094 or 042-35855791 or log on to http://www.pacans.com